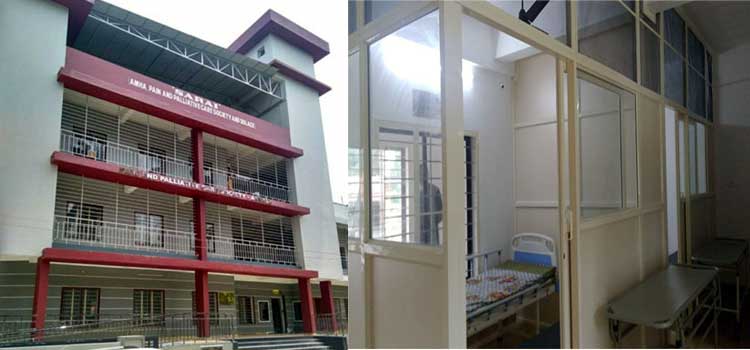 Hospice and Day Care Centre for prolonged treatment
The Home Centre (Hospice)
The Home Centre is envisaged as a shelter for patients who need prolonged treatment, perhaps until the end of their life. Hospice care is reserved for terminally ill patients when treatment is no longer curative during the last 6 months of life, assuming the disease takes its normal course. Hospice care includes palliative care and addresses the patient's physical, emotional, and spiritual needs as well. Hospice can help with such daily activities as administering medications, bathing, and dressing, but hospice does not provide full-time caregivers. Hospice requires that a willing, able and available caregiver be in the home unless alternate arrangements are made.
People in hospice care generally are expected to have less than 6 months to live. Hospice neither hastens nor postpones dying. The aim is to improve the quality of the remaining life. The hospice team develops a care plan tailored to the individual need for pain management and symptom relief and provides all the necessary palliative drugs and therapies, medical supplies, and equipment. In some cases, hospice care can extend life, If the condition improves, the patient can be discharged from hospice and return to curative treatment, or resume their daily life.
The Fundamental Differences between Hospice and Palliative Care is that hospice works to help terminal patients physically, mentally, and spiritually live comfortably at the end of life, palliative care undertakes the same philosophy of full-patient care which can be performed for non-terminal patients, helping them live longer, happier lives. Everything within hospice is palliative, not everything palliative is hospice!
Day Care Centre
The Day Care centre is envisioned as one where patients can be admitted for the whole day so that close relatives can go for work and earn their living. The Day Hospice at Olarikkara is open between 8.30 to 5.30 pm, Monday to Saturday and provides care and support for up to 10 patients each day. The Day Hospice can help with symptom management, as well as emotional and spiritual support. In providing respite care for the day. Care staff at the centre will provide assistance with the patient's daily care activities such as eating or going to the toilet. Meals are provided and run a range of activities and social events led by the activities coordinator and a team of dedicated volunteers. Through symptom control, rehabilitative activities, psychological and social support, recreational activities to maximize the patient's quality of life. This helps to minimize caregiver stress and allows caregivers to rest and recuperate.
Infrastructure and Support
Considering our service in the Society for the last eighteen years, Govt of Kerala has sanctioned twenty-five cents of land for us along with two other similar agencies, in Aranattukara Village, Olarikkara, of Thrissur Corporation. Here we are constructing a HOSPICE CENTRE and a DAY CARE CENTRE. The total cost of the three storyed Building is estimated as Rs: one crore.