Chetana -A Support Group for Kidney Patients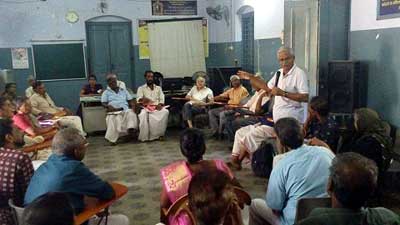 A diagnosis of chronic kidney disease (CKD, is a condition characterized by a gradual loss of kidney function over time) can be devastating to the patient, creating physical and emotional life changes with accompanying difficult social and psychological challenges. The problems faced by kidney patients being unique to their health condition and also due to legal issues involved, it was decided that a support group be dedicated to the mitigation of problems faced by kidney patients and their family members under the auspices of Pain and Palliative Care Society, Thrissur. This renal patient support group, which started its service in a defined manner in November 2015, was named Chetna. The program is here to help anyone touched by kidney disease. For example, people who have been diagnosed with kidney disease or those whose kidneys have failed, as well as their friends, families and loved ones can all use the service.
The main activities of Chetana include,

The group shall "Inform - Interact - Involve - Promote - Homecare."

Inform - Provide information relating to treatment, transplantation, patient care at home, welfare schemes announced by the government, etc.
Interact- Facilitate interactions with persons who had similar experiences and with the capacity to inform and inspire the kidney patients.
Involve- Make efforts to involve them in activities that would make them confident. Thus, Chetana makes efforts to attract them to activities like Yoga, playing the game of Chess, Drawing and Painting, Computer training, Fabric painting, etc.
Promote Peer Support - Interaction among the patients is promoted as it is found that such interactions make them feel at home and conveys the message that they are not alone in this world.
Homecare - A team of Chetana volunteers visits the homes of patients regularly to assess the situations and provide them with support.
Pain and Palliative Care Society - Thrissur believes that encouraging kidney patients to involve themselves in creative activities would make them feel self-confident and reduce dependence on others. This would, to a great extent, help alleviate the signs of depression that many patients suffer from. Chetna organises its activities with this realisation.
This group support to overcome the many challenges faced by kidney patients like Complex medical management for complications (eg. hypertension, dyslipidemia, anemia, poor nutrition, mineral and bone disorder), risk for adverse outcomes like cardiovascular disease and kidney failure, adjustment to dietary prescription and reduced fluid intake when on maintenance dialysis, coping with the anger, fear, anxiety, frustration, and sadness of having a chronic illness, disruption of their activities due to complex medical plan and/or dialysis treatment schedule, recurrent hospitalizations and the discomfort of dialysis and/or other medical treatments, a near-death experience and potentially shortened life span, maintaining important roles relative to jobs, family, and friends, etc.